18 avril 2020 - The Mattherhorn expressing our solidarity
As one of the most populated countries in the world, India is suffering from the Corona crisis. The challenge in such a large country are immense. The indian flag on the Matterhorn is intended to express our solidarity and give hope and strength to all indians. (18.04.2020)
79y old from the pastor Pappy Daniel (2)
Time is flying and despite the confinement, the staff of the children's home made a point of preparing the birthday
cake to celebrate the 79 years old of the Pastor Pappy Daniel.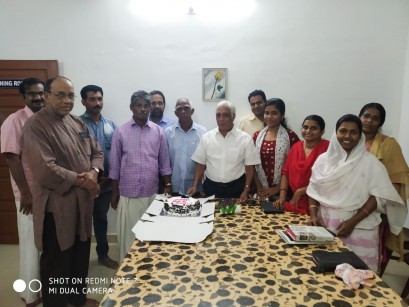 indian greetings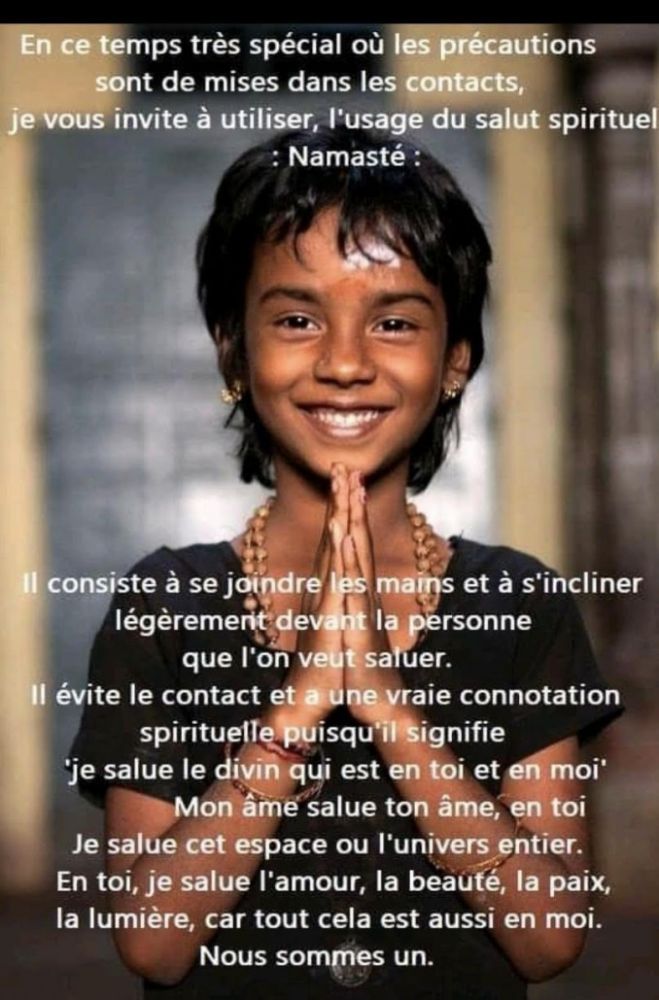 AG 27.03.2020 - canceled
To follow the news on the COVID-19, and for respect the recommendation of the confederation and satisfy everyone,
it was decided that our general assembly of March 27-2020 IS CANCELED. We will notify of a future date later.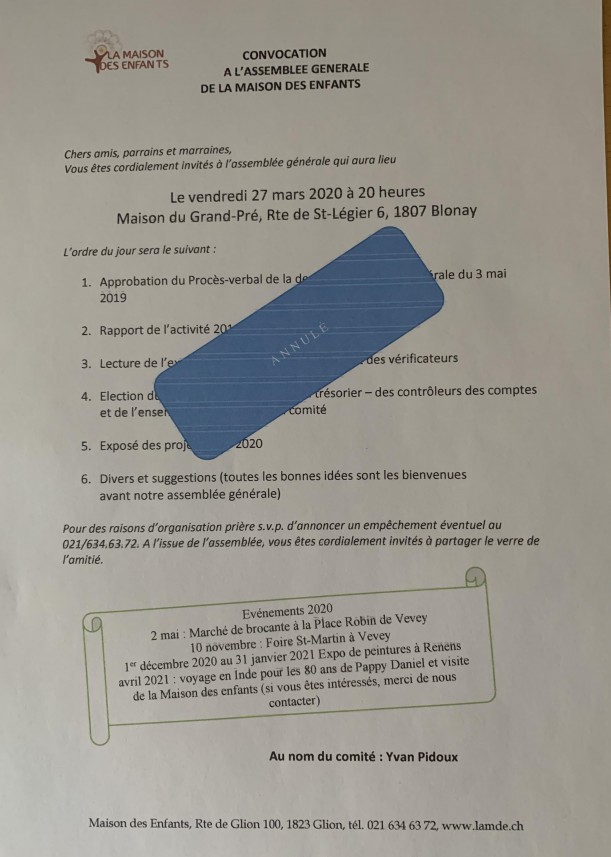 Coronavirus - 15.03.2020
Here is some news from the Pastor Pappy Daniel about the global epidemic that persists in India :
Everyone is well at the moment, however, the government has ordered all children to be returned to their families until further instructions are received. Schools are closed until June 1.2020. There will be no more religious services, or gatherings until further notice. Only 15 people are allowed at weddings and only relative at funerals. Restaurants, public transport are empty and several citry streets are deserted. In an attemps to stem the epidemic, India closed all of its bord3ers until the end of March. since Europeans are treated with suspicion : canceled flights, refusal of hotel or taxi.
IN OUR COUNTRY, ALSO FOLLOW THE GUIDELINES OF OUR GOVERNMENT - STAY AT HOME- PROTECT YOUR FAMILIES AND YOURSELF.
BE PATIENTS, KEEP COURAGE, HEALTH AND REMAIN IN CONTACT WITH YOUR FRIENDS FROM HERE AND ELSEWHERE THROUGH OUR DIFFERENT WAYS OF COMMUNICATIONS. MAKE SURE TO KEEP SAFE !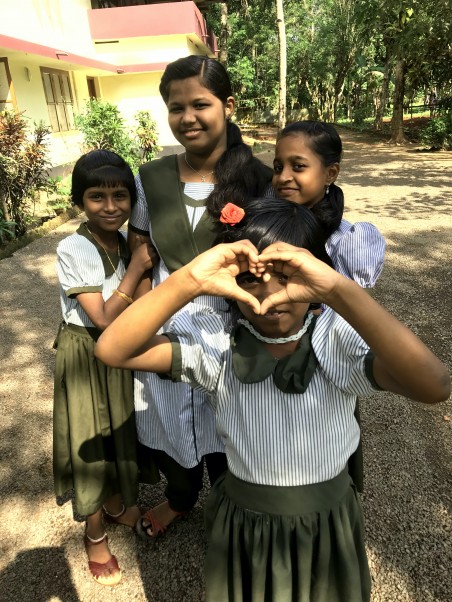 New set of dress (march 2020)
Thanks to our generous donors, a new set of clothes has been made for children. You will be able to notice for the girls clothes, the different details according to their age.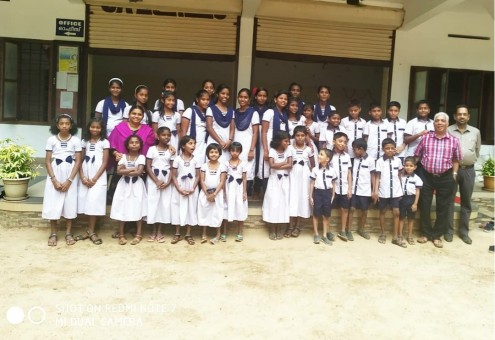 Annual Assembly 2020 (2)
Friday 27th March 2020 will be held our Annual Assembly at la Maison du Grand-Pré, Rte de St-Légier 6,
1807 Blonay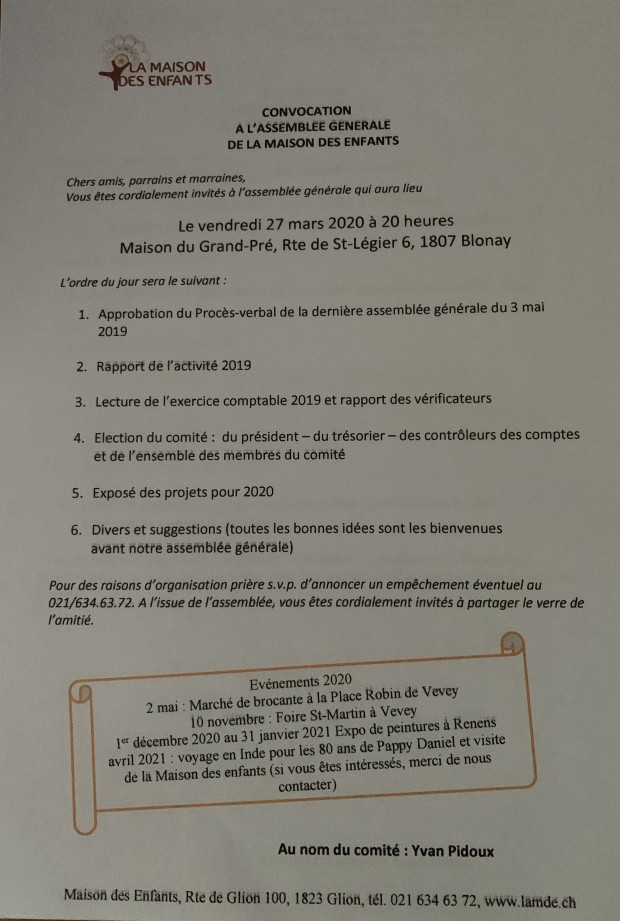 Photos of the concert "AGORA" on Sunday 2nd February 2020 at 17h30 à l'Eglise du Prieuré à Pully (7)
The Prieuré Church in Pully vibrated on Sunday 2nd February during the concert of the AGORA ensemble which we warmly thank for the magnificent performance. After the concert, the musicians, guests and friends of La Maison des Enfants shared a highlight and a delious feast.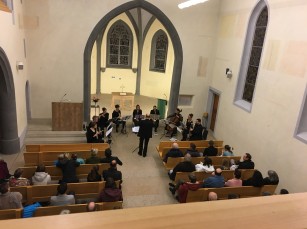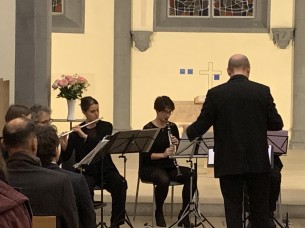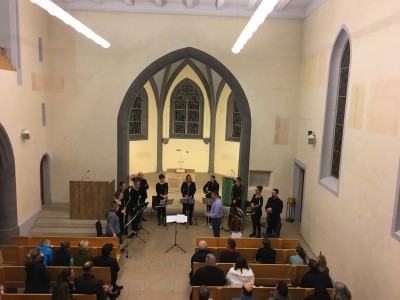 Concert by "AGORA" on sunday 2nd february at 5.30 pm to the church du Prieuré in Pully
We are very pleased to present the musical groupe "AGORA"
on sunday 2nd february 2020 at 5.30 pm to the church du Prieuré in Pully
DIRECTION ET ARRANGEMENTS : Etienne MOUNIR
MOST WELCOME !!!